EDIT MAIN
Counselor Page
Counseling Office
Phone: 405-739-1741
Registrar Fax number: 405-455-5424
Name
Title
Phone
Ext.
Cindy Counts
A-D
5115
Anita Keith

E-J
5165
Jennifer Kennedy
K-Q
5141
Jamie Butler
R-Z
5144
Reba George
Registrar
5137
Michelle Thompson
Secretary
5140
MCHS parents and students, office hours are below. We will be available by appointment during this time. If you would like to setup an appointment outside of office hours, contact your counselor for availability.
Jennifer Kennedy - Schedule an appointment through Calendly, click HERE.
Cindy Counts - Schedule an appointment by email - ccounts@mid-del.net
Jamie Butler - Schedule an appointment by email - jdbutler@mid-del.net
Anita Keith - Schedule an appointment by email - akeith@mid-del.net
Advanced Placement –
You must sign an AP contract for each pre-AP and AP class you take. You can pick one up in our counseling office. Please turn in the forms before or when you meet with your counselor to enroll. If you have any concerns regarding a specific AP course, please contact the counseling office.
Mrs. Gragg - sgragg@mid-del.net
~~~IMPORTANT AP UPDATES during the Coronavirus Pandemic~~~
The College Board announced that all AP exams will be given online, not in person. Additionally, they will be holing review sessions and study materials to help out during this time. Please note that none of this is mandatory, but it is all there to help you if you want it. The College Board is still working out the logistics, but you can find more information and updates here: https://apstudents.collegeboard.org/coronavirus-up...
Please contact your AP teacher if you have any more questions!
PLEASE NOTE: ONCE STUDENTS ENROLL IN A HONORS OR AP CLASS, THEY MUST COMPLETE THE YEAR. WE WILL NOT CHANGE ANY SCHEDULES.
Transcript Requests
To request an official transcript, please contact the Registrar Reba George at 405-739-1741, ext. 5137.
Requests via e-mail will not be accepted.
Ticket to Rose
Ticket to Rose is a program sponsored by Rose State College for graduates who graduated from, or who live in, the Carl Albert, Del City, Midwest City, and Choctaw School Districts. The program provides students with support for tuition and fees for up to 62 attempted credit hours, or for three consecutive years, whichever comes first. The deadline to apply is August.
You must complete the application for admissions AND the Ticket to Rose application by August to qualify for the program. Go to http://www.rose.edu/ticket-to-rose-program for more information.
Basic Ticket to Rose Information
1.Ticket to Rose is a program sponsored by Rose State College for graduates who graduated from, or who live in, Star Spencer, the Carl Albert, Del City, Midwest City, and Choctaw School Districts.
2.The program provides students with support for tuition and fees for up to 62 attempted credit hours, or for three consecutive years, whichever comes first.
3.Ticket to Rose offers assistance when scholarships and other forms of federal or state financial aid (excluding loans) do not cover the cost of tuition and fees. Therefore, the need for assistance through the Ticket to Rose program is determined by the student's on-line application of the Free Application for Federal Student Aid (FAFSA).
4.Ticket to Rose does not provide funding for textbooks or supplies.
Students who are eligible to participate in the Ticket to Rose program must be a graduate from Choctaw, Del City, Carl Albert or Midwest City High School. The program is also available to private and home school graduates whose primary residence is within the officially defined borders of the aforementioned school districts. Residency will be self reported. However, if a question arises regarding the student's residency status, documentation to support the residency of the student within the Mid-Del or Choctaw school district may be required by the Office of Financial Aid. The student must be a legal resident of the United States. Students who wish to receive Ticket to Rose must also have an overall (cumulative) weighted high school grade point average of 2.5 or higher. Initial eligibility will be determined by a 7-semester high school transcript, submitted to the Office of Admissions and Records (ADM 100).
An application for Ticket to Rose must be accomplished on-line at www.rose.edu/ticket-to- rose-program by the published deadline.
OK Promise
Can't Afford College? Yes You Can! Earn free college tuition with Oklahoma's Promise - OHLAP (Oklahoma Higher Learning Access Program).
Once you've completed the program's requirements, Oklahoma's Promise will pay your tuition to an Oklahoma public two-year college or four-year university. It will also cover tuition at selected public technology centers.
Time is running out to qualify - enrollment is limited to 8th, 9th and 10th graders. See your junior high or high school counselor for additional information and applications.

Apply on line at www.okpromise.org
E-mail okpromise@osrhe.edu
Call the Oklahoma State Regents for Higher Education at 1-800-858-1840 or 225-0152 in OKC
GET AN APPLICATION FROM YOUR COUNSELOR
Concurrent
If students have not taken an ACT or SAT, they can take the Accuplacer to qualify for concurrent enrollment. Students must have a GPA of 3.0.
For more information:
RSC Academic Outreach 733-7951
Seniors
We wanted to offer an option for your senior to download his/her content from the school designated email account to his/her personal account. Your student will need to do this prior to May 15. If your student will go to https://takeout.google.com/transfer it will provide a step-by-step transfer process. If they do not have a personal Google account they will need to create one before starting the process. If he/she needs technical assistance, please email: student-help@mid-delonline.net.
We've linked a "how to" document Click Here
Graduation Requirements
In accordance with Senate Bill 1380, ALL students entering the 9th grade will be enrolled in the college preparatory curriculum.
Prior to entering the 9th grade, students will have the option to "opt out" of the college preparatory curriculum with the parent/guardian's approval.
In order to receive a high school diploma from Mid-Del Schools, the student must successfully complete the following required courses plus eight and one half units (seventeen semesters) of electives. In accordance with H.B. 3218, all students graduating in the year 2016 and beyond will participate in the Oklahoma State School Testing Program.The achievement score for all state given assessments 9th – 12th grade will be reported on the student's high school transcript.

College Preparatory Curriculum
Senate Bill 1380
Units *
| | |
| --- | --- |
| 4 Units of English | Grammar, Composition, Literature, or any English course approved for college admission. |
| 3 Units of Mathematics(Grades 9-12) | Algebra I, Algebra II, Geometry, Trigonometry, Math Analysis, Calculus, Advanced Placement Statistics, or any math course with content and/or rigor above Algebra I and approved for college admission. |
| 3 Units of Science | College Prep Graduation Requirements updated (Class of 2019):1 unit of life science (Biology – may be Pre-AP or AP)1 unit of physical science standards (Physical Science, Physics, or Chemistry)1 unit of any Life, Physical, or Earth and Space Science (at or above the rigor of Biology I or Physical Science) |
| 3.5 Units of History and Citizenship Skills | 1 unit U.S. History, 1 unit American Studies (Government), ½ unit Oklahoma History, and 1 unit World History |
| 2 Units World Language or Technology | 2 units of the same World Language or non-English language or 2 units of Computer Technology approved for college admission including computer programming, hardware and business computer applications, such as word processing, databases, spreadsheets, and graphics, excluding keyboarding or typing courses. |
| 1 Additional Unit | Listed above or career and technology education courses approved for college admission. |
| The Arts | 1 Units of Fine Arts which may include, but are not limited to, music, art or drama, or 1 unit of Speech. |
| Personal Financial Literacy | ½ Unit of Personal Financial Literacy in which students demonstrate satisfactory knowledge in 14 areas of instruction as defined by the State Department of Education (beginning with the class of 2014). |
| Electives | Elective units to equal a minimum of 23 total units. |
If the student "opts out" of the college preparatory curriculum, with the parent/guardian's approval, they must meet the following diploma requirements.
Certificate of Distinction
Students who meet the specified requirements will be recognized as graduates of distinction. Advanced placement classes in the subject areas may be substituted on a course-by-course basis to satisfy the academic units required for a certificate of distinction.
4 units of English
4 units of Mathematics
4 units of Social Studies
4 units of Science
Two units or sets of competencies of the same foreign or non-English language or two units of computer technology approved for college admission requirements,
1 additional unit in the areas of Technology, Humanities, or the Arts
• Must have a minimum of a 3.25 grade point average on a 4.0 scale
• Achieve a satisfactory (or advanced) score, or its equivalent, on all exams required through the Oklahoma School Testing Program (not to include tests designed to be predictive of college success, i.e. Pre ACT, PSAT, etc…)
Information on how to sign up to see your student's grades, and attendance.
PowerSchool Parent Access
Would you like to view your children's school information via the web? Mid-Del Schools has a product called PowerSchool Parent Portal that allows parents to access pertinent information about their child's attendance, grades, health records and much more. This is a secure web site that requires a user name and password to access.
Scholarship Connection - Click on link to be directed to updated scholarship information for all students attending any college.
Facebook - Midwest City High School Counselor's Corner
Twitter - @MDUBcounseling
Apps to Help with Anxiety
Although technology can sometimes carry a negative connotation and even impact with regard to anxiety, there can be real value in some of the tools it offers, especially for students. Many people, including students, suffer from anxiety and therefore, I wanted to share with you 3 free apps parents and teachers can use (and some older aged students). These tools are NOT to replace therapy but they can be a great additional tool for students to use. Each of the apps are available for free download on Google Play and in the App Store.
Woebot
Woebot is an app that gives you the opportunity to talk through and process some of your feelings of anxiety and depression. The Woebot, a computer coach, uses cognitive behavioral therapy (CBT) practices to walk people through calming exercises, and can give them someone to talk to. Woebot can also check in on you daily to see how you are doing and give you support. This is a great app to recommend for parents to help their children, and actually has been supported by research.
Sanvello
Sanvello is also an app that has roots in CBT and is designed to support people with anxiety. It includes guided meditations, a daily mood tracker, and other activities and videos. It can be set to alert you daily so that you can check in and work through any anxiety you might be feeling. This is a great app to recommend for parents to help their children.
Breathe2Relax
This simple app is perfect for helping people practice deep breathing. It includes visuals that you can follow as you breathe. It also can be customized to the breathing pattern that you would like. The calming voices and imagery make this app perfect to use when working with students who are feeling upset or anxious.
Reference: Counselor Chelsey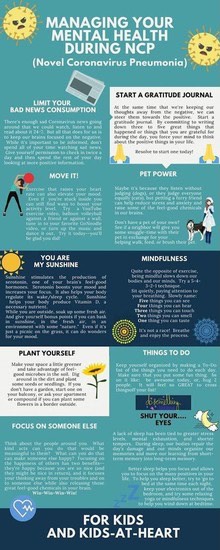 Online Resources to Manage Anxiety/Stress
Mini Meditation - Letting Go of Stress - Headspace
Managing Anxiety related to Covid-19 - OU Medicine
Taking Care of Your Emotional Health - CDC
Online Academic Resources: