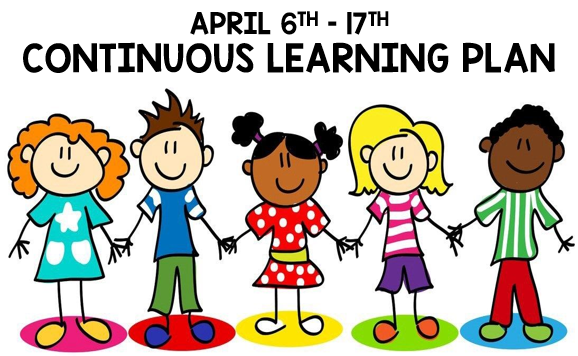 Continuous Learning Plan
Allison Klick
Monday, April 06, 2020
Continuous Learning Plan: Paper Copies
Continuous Learning Plan paper copies may be picked up at any of the following eight school meal locations between 9:30-11:00 a.m. Monday, April 6:
Barnes Elementary (10551 S.E. 59th Street in Oklahoma City)
Highland Park Elementary (5301 S. Dimple in Oklahoma City)
Midwest City Elementary (2211 S. Midwest Blvd. in Midwest City)
Soldier Creek Elementary (9021 S.E. 15th Street in Midwest City)
Steed Elementary (2118 Flannery in Midwest City)
Tinker Elementary (4500 Tinker Road in Oklahoma City)
Del City High School (1900 S. Sunnylane in Del City)
Midwest City High School (213 Elm in Midwest City)
Continuous Learning Plans Online: The following materials are to be used during April 6-17, 2020. Your child's teacher will be contacting you to offer any assistance needed. Feel free to reach out to your teacher during his/her designated office hours or you can email your teacher directly. If you need your teacher's email, it can be accessed on the school website directory. Thank you!