Save the Date for the 3rd Annual FREE Community Family Fun Day for Mid-Del Families sponsored by the Shelden Williams Foundation! Join us August 19th from 12-3pm at Rose Field. Games, music, food, prizes and more!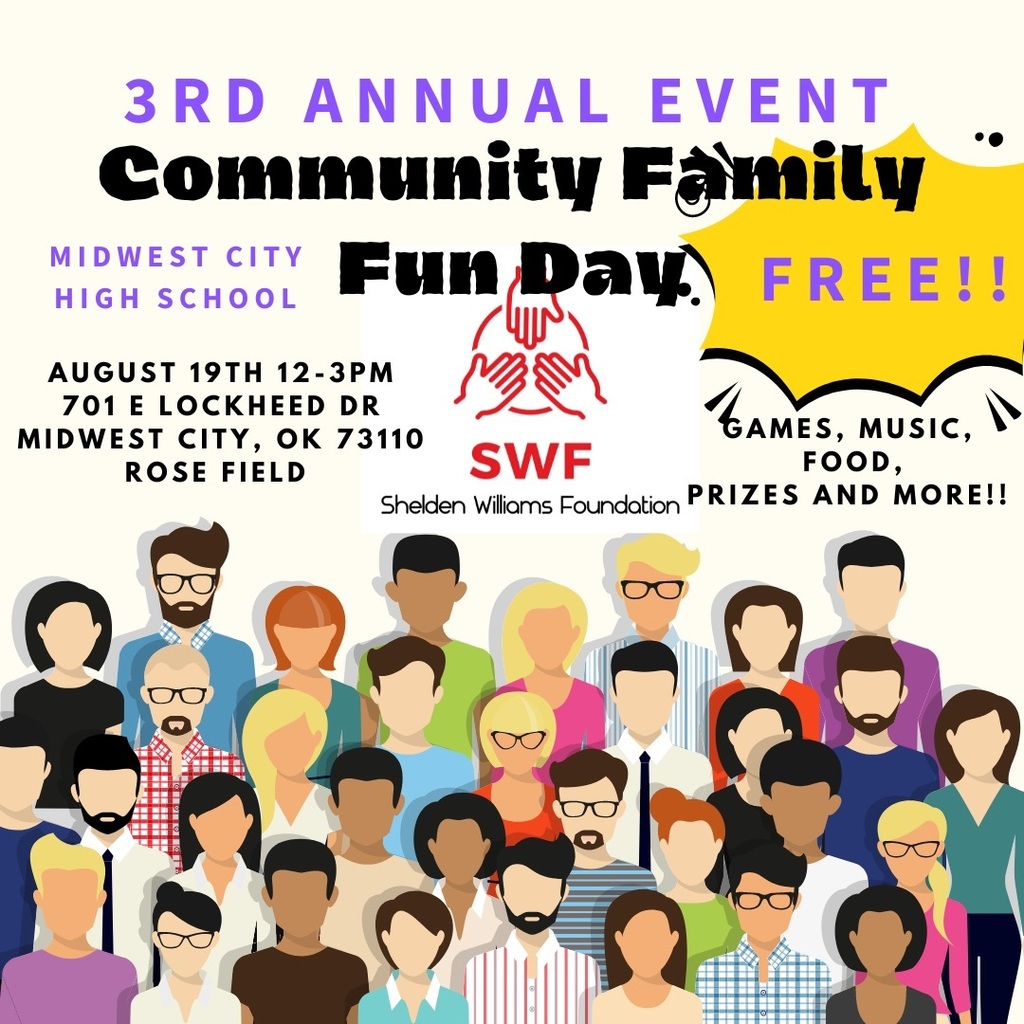 School is out for the Summer! We hope all of our Mid-Del students and families have a great summer break! Seniors, we look forward to celebrating you at Graduation this Saturday! #mdpurpose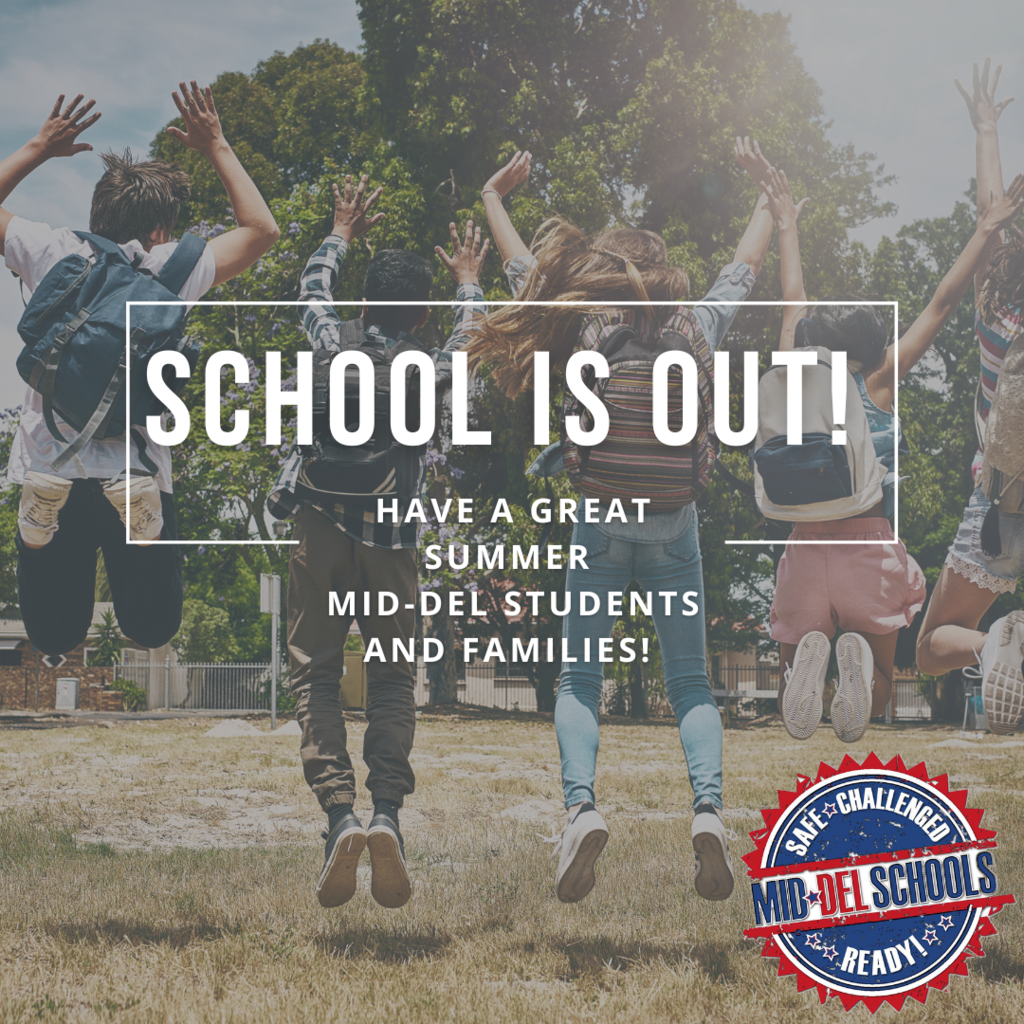 Mid-Del Schools Child Nutrition Program is once again sponsoring the Summer Food Program. We are excited about offering FREE breakfast and lunch to any child age 1-18! #mdpurpose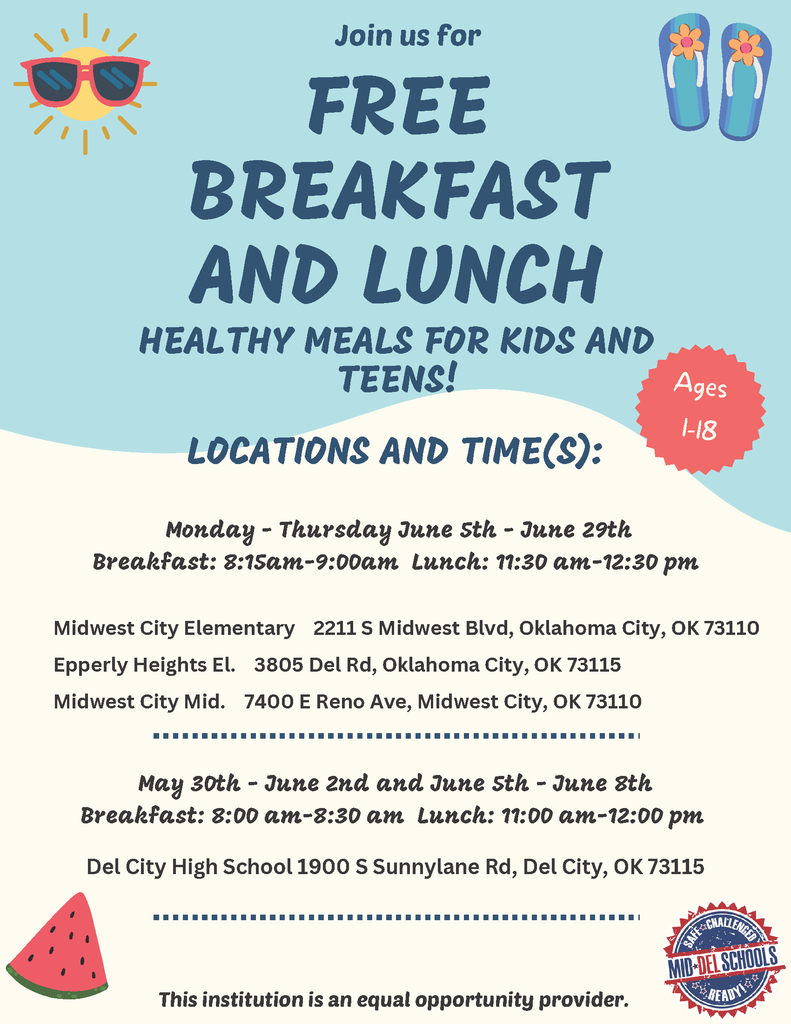 Sanctioning Meeting Information: To be sanctioned in 2023-24, at least one OFFICER of the organization MUST attend a google meeting that is offered by the district to receive the instructions for submitting an application. If an officer has not attended a district meeting for this purpose, the organization will not be presented to the Board of Education for sanctioning. The first Sanctioning Meeting will be held May 16th. Please see the graphic for more information or use the following link:
https://www.mid-del.net/page/sanctioning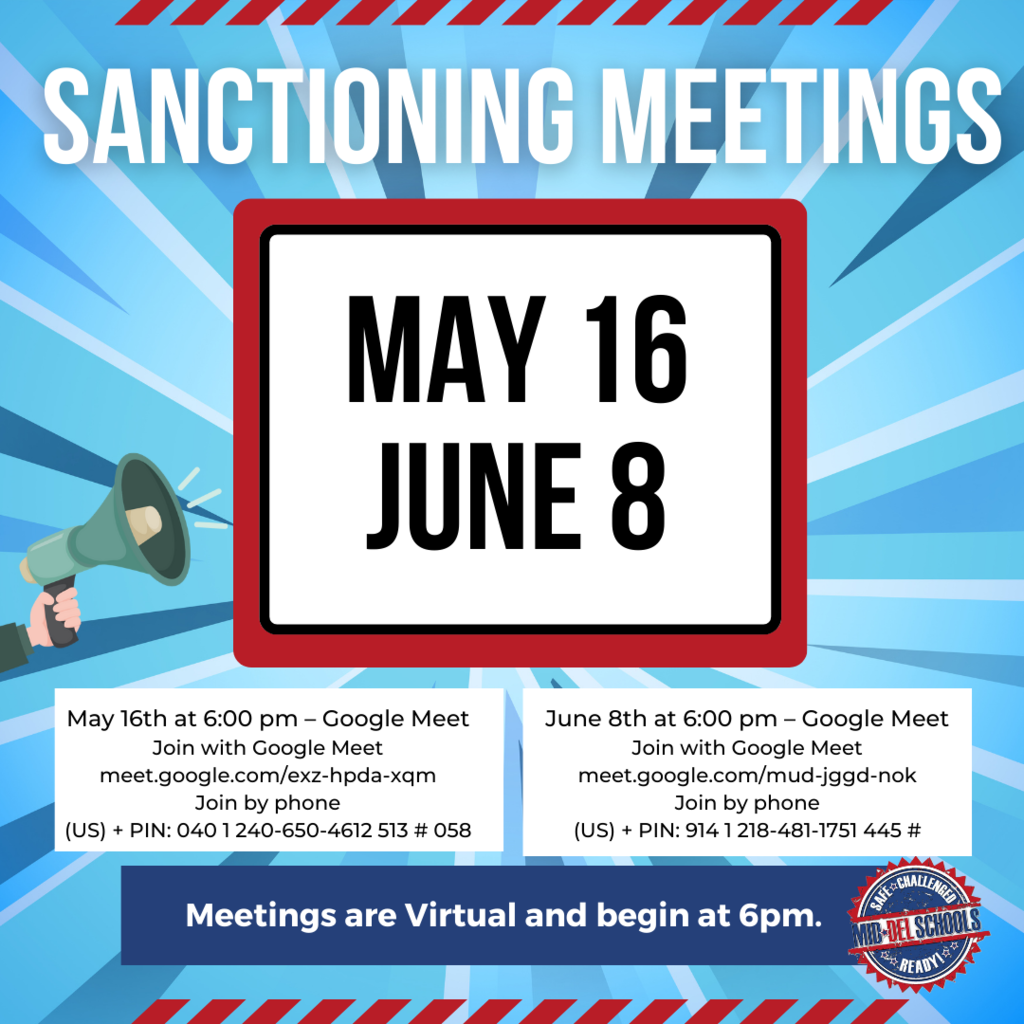 After participating in a webinar this morning with the National Weather Service, we've made the decision to cancel evening events for tonight. This is for all schools, including the Mid-Del Technology Center, but does not include OSSAA events, which are outside of our control. Hopefully we can get everything rescheduled in the time we have left this year. We've included slides from the webinar for your information. Stay safe. #mdpurpose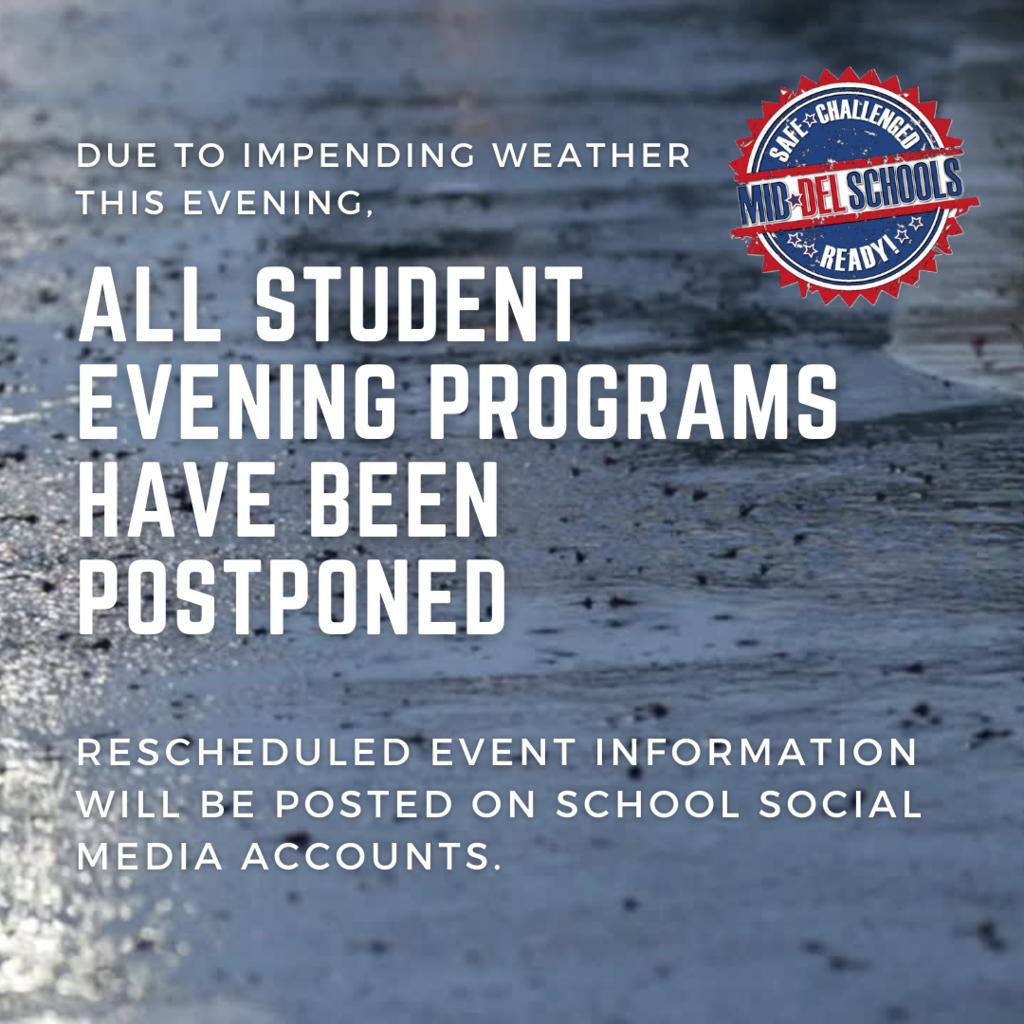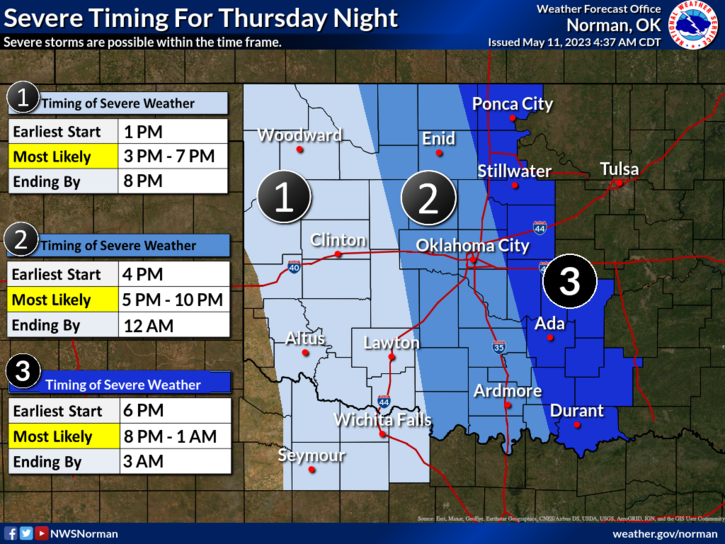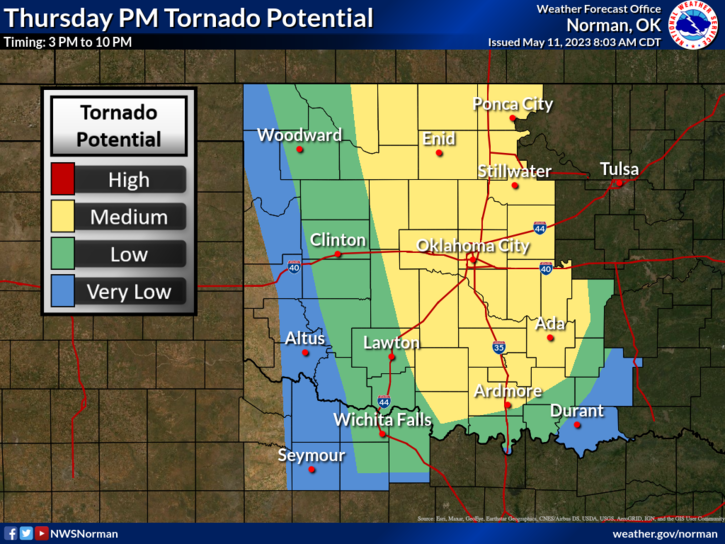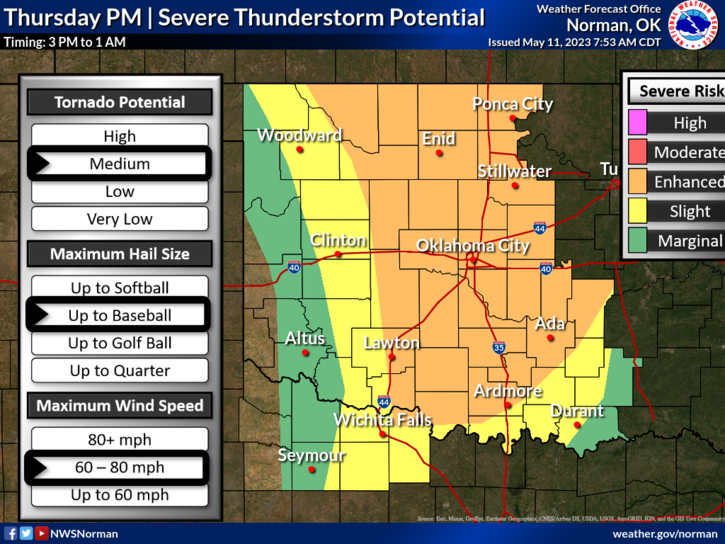 Important message for Mid-Del families. Due to impending weather this evening, all student evening programs have been postponed. Please watch school social media accounts for event reschedule information. #mdpurpose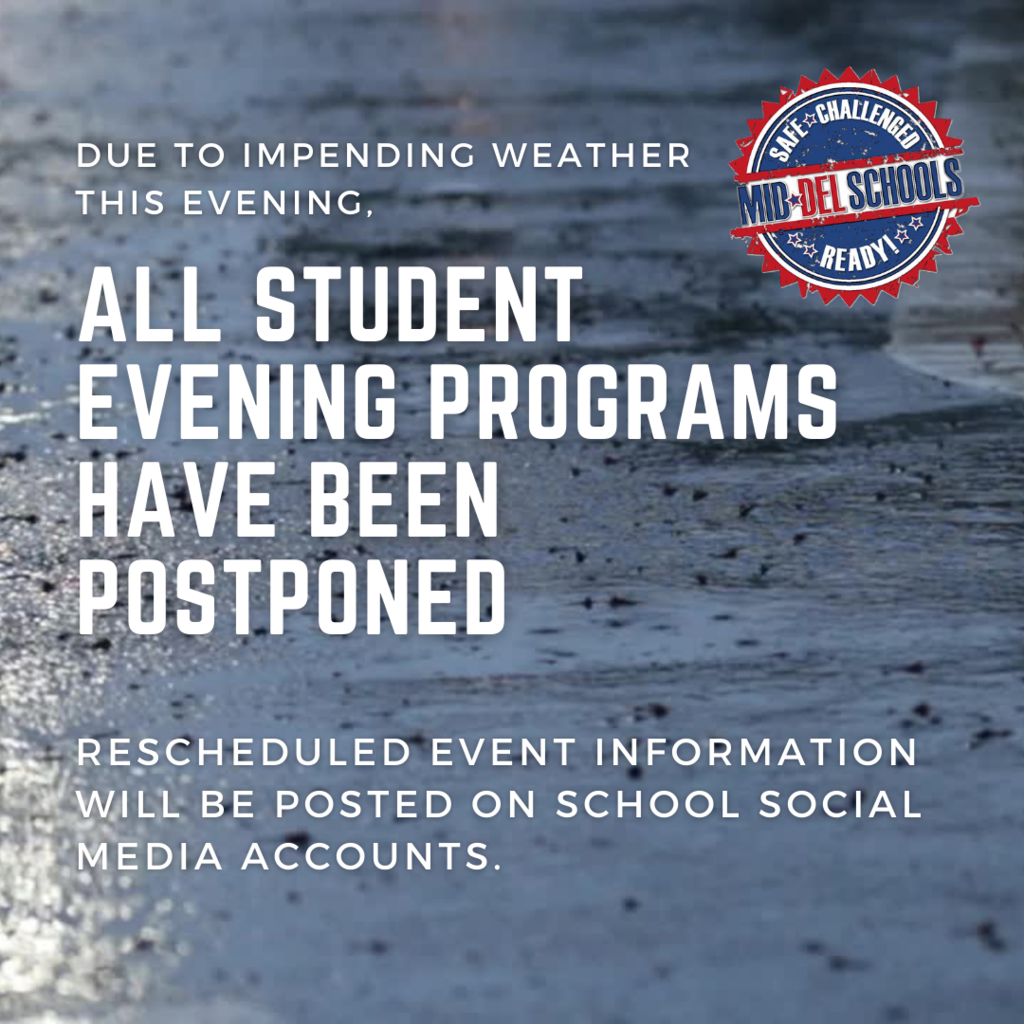 Mark your calendars for our upcoming Virtual Sanctioning Meetings on May 11th and June 8th. If you have questions regarding the meeting, please contact Preston Tatum at
ptatum@mid-del.net
or Jacqueline Woodard at
jwoodard@mid-del.net
. Thank you!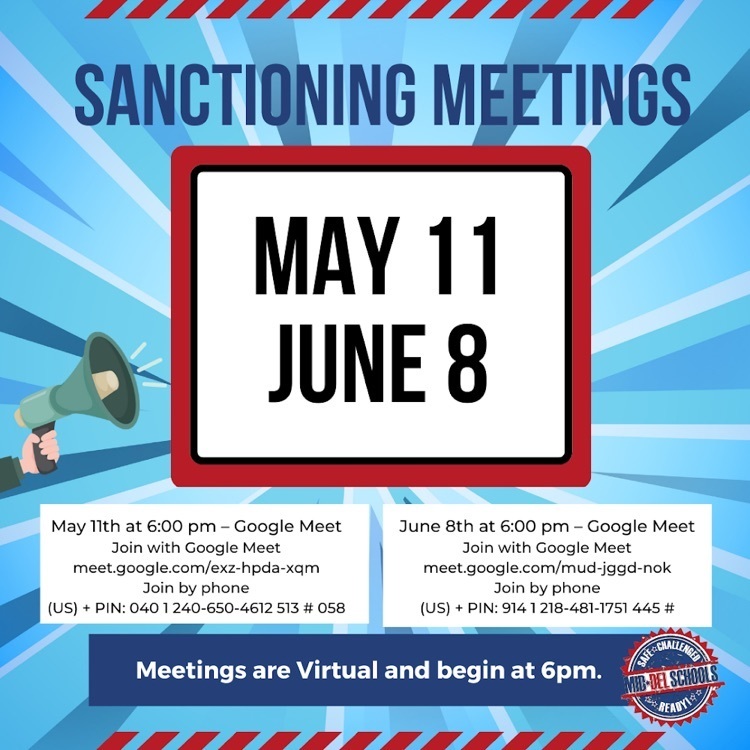 Come join the MCHS Guard!!! All are welcome!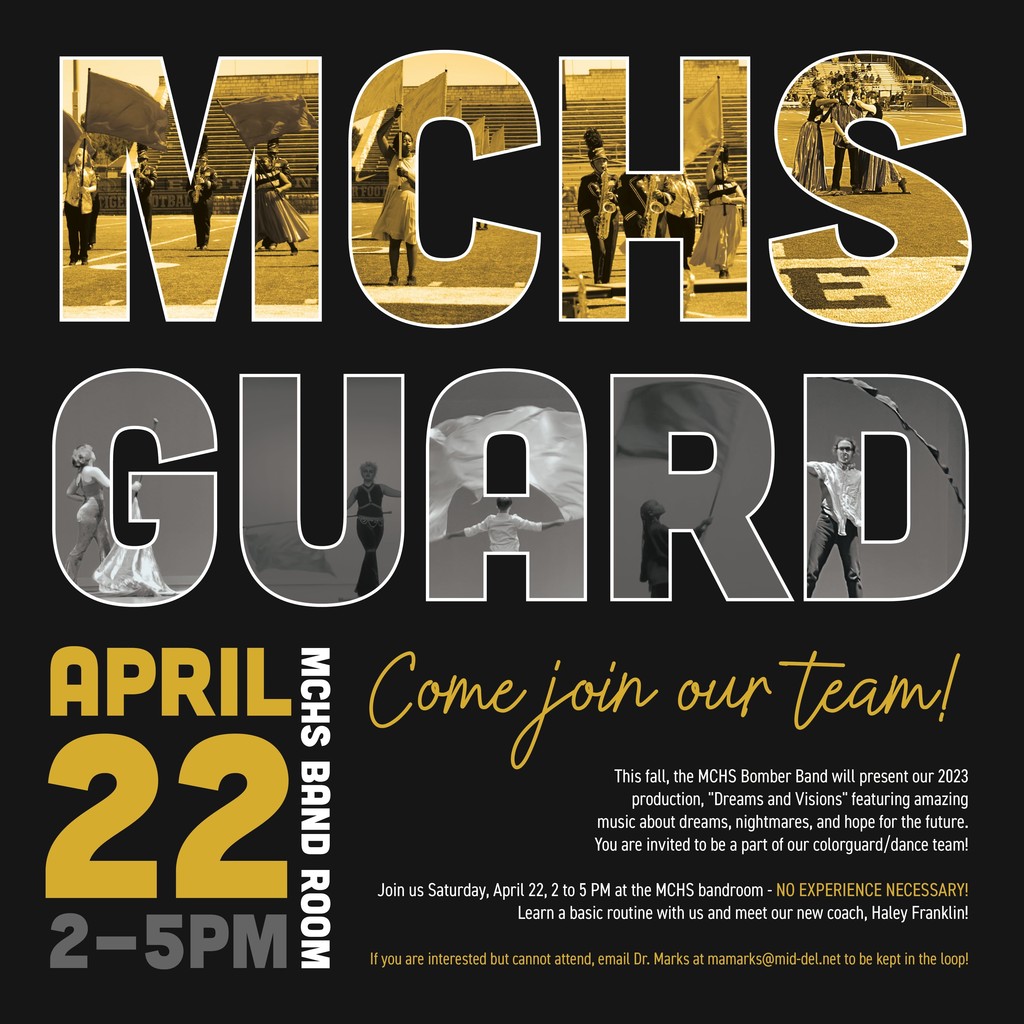 Congratulations to our amazing Oklahoma City Community Foundation scholarship winners!!! Jesus Avila, Thomas Kennedy, Giyonnah Hurvey (not pictured: Jenessa Estell) and our amazing Counselor Ms. Thomas!

Tonight is the night! Join us from 5-6:30p.m. at Midwest City Elementary. Meet with principals from our schools and learn more about our #mdpurpose!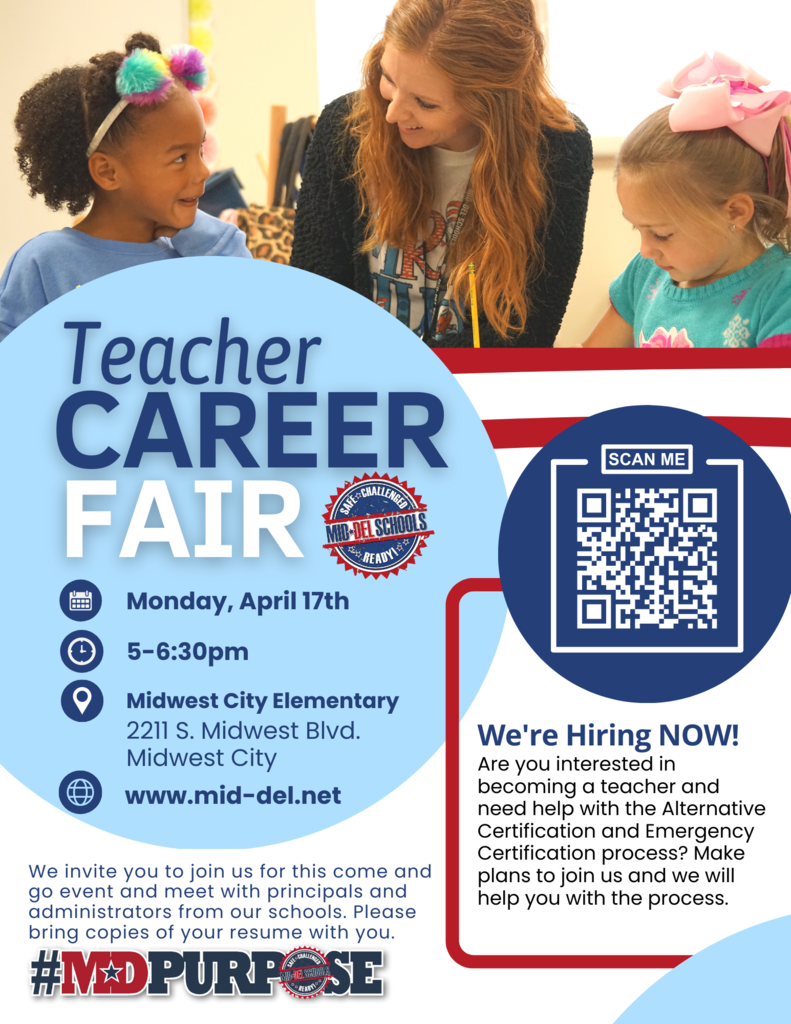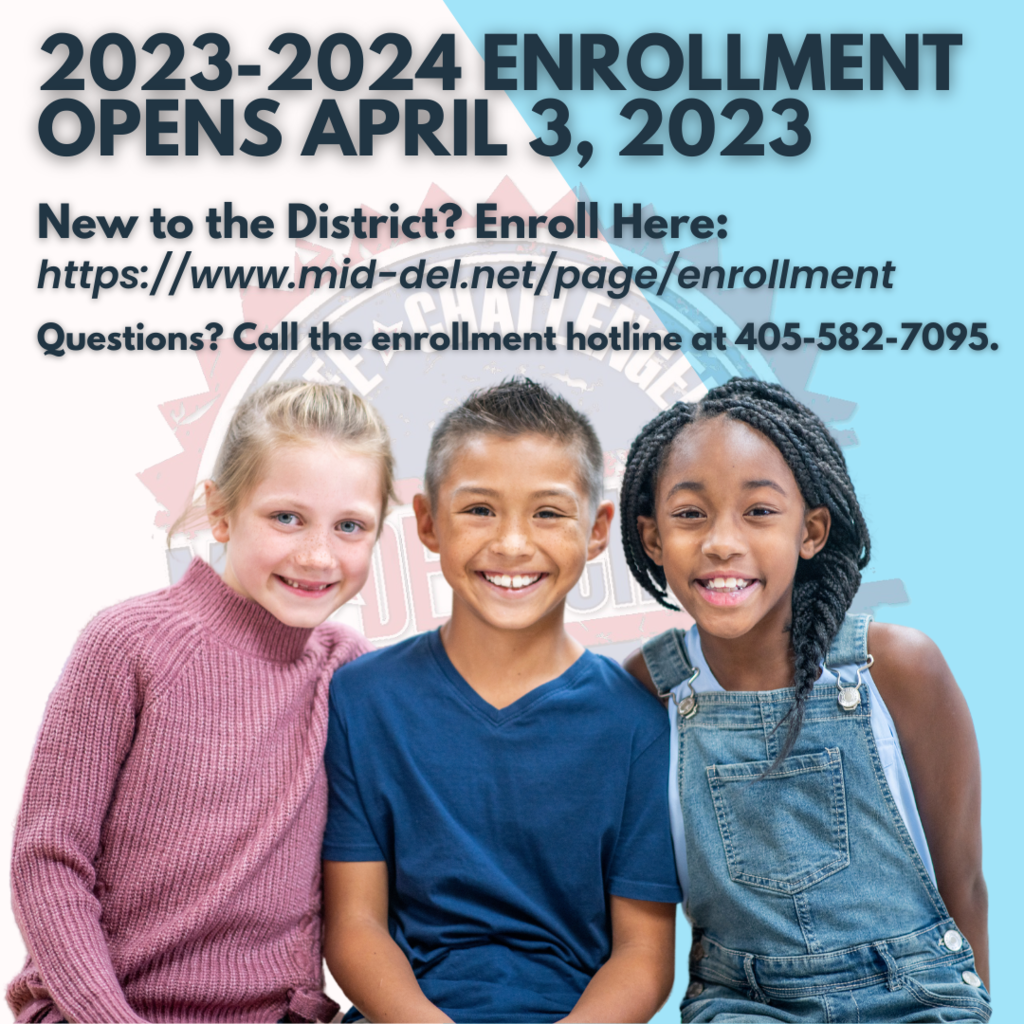 We encourage all of our Mid-Del families to wear purple for Purple Up! For Military Kids Day on Thursday, April 13th! Purple Up! For Military Kids is a day for communities to wear purple to show support and thank military children for their strength and sacrifices. Purple indicates that all branches of the military are supported; Air Force blue, Army green, Navy blue, Marine red, and Coast Guard blue all thought to combine together as a single color, purple. #mdpurpose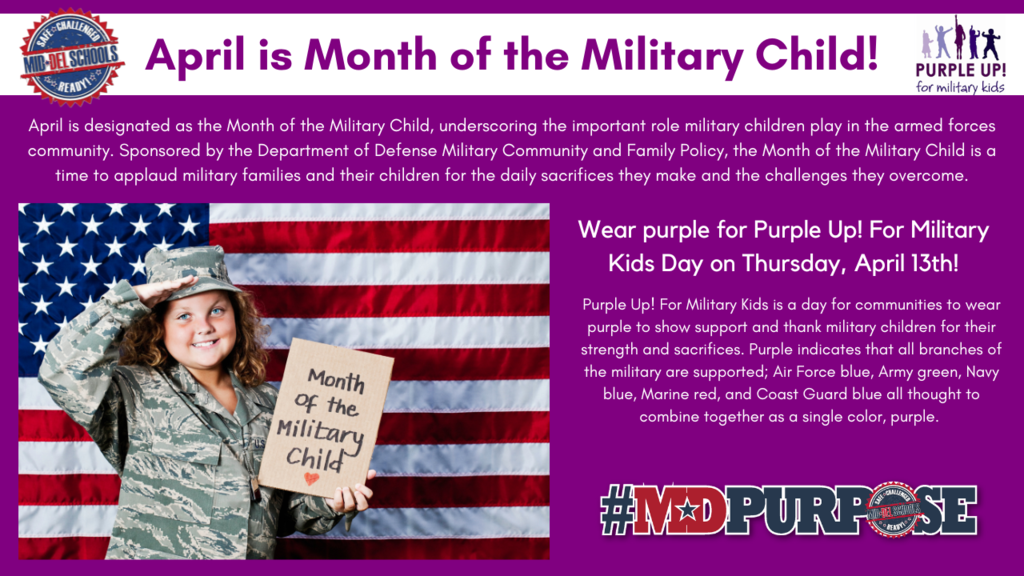 Mid Del is hosting a Career Fair Monday, April 17th!! Come join our team!!!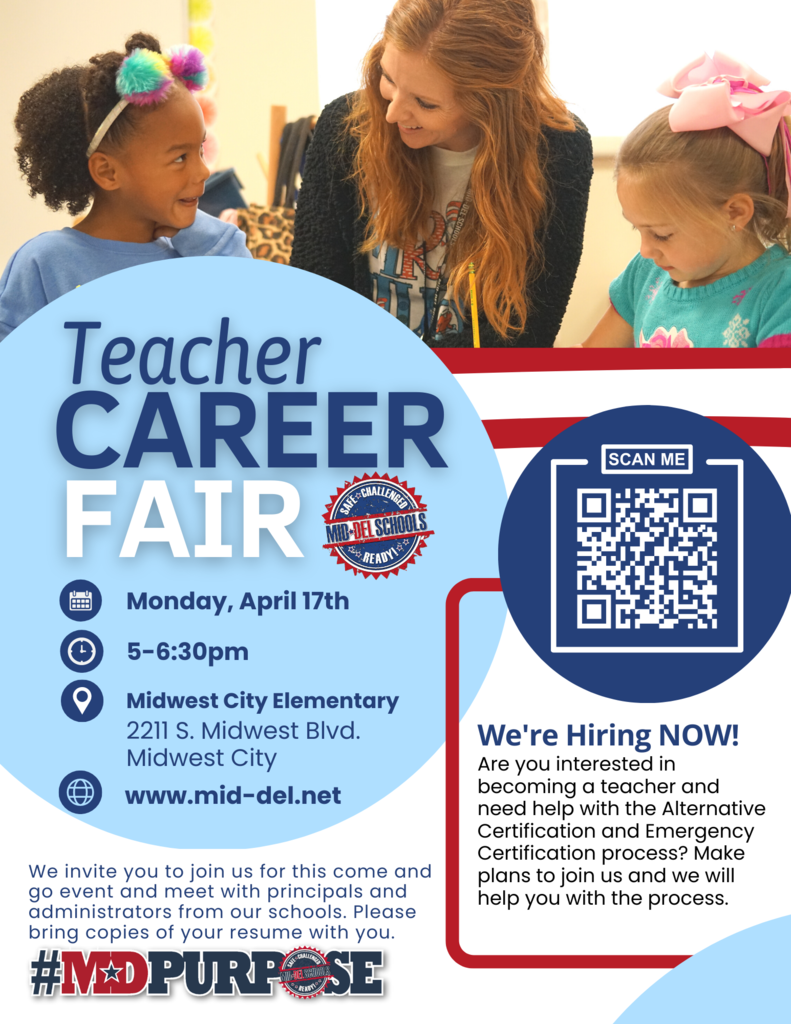 Come be a part of the Mid-Del Team! Join us at our Teacher Career Fair on Monday, April 17th from 5-6:30pm. Meet with principals and administrators from our schools at this come and go event. Please bring copies of your resume with you. #mdpurpose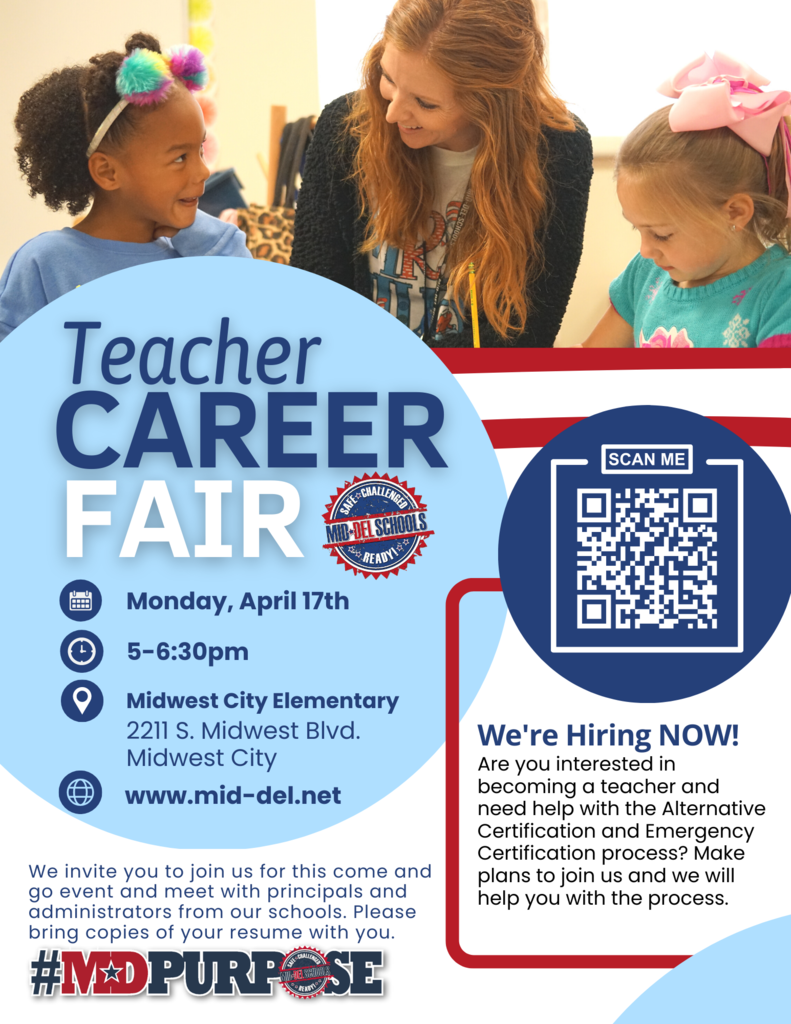 Congrats Coach Noel!!! Bombers are proud to have you back at MCHS!!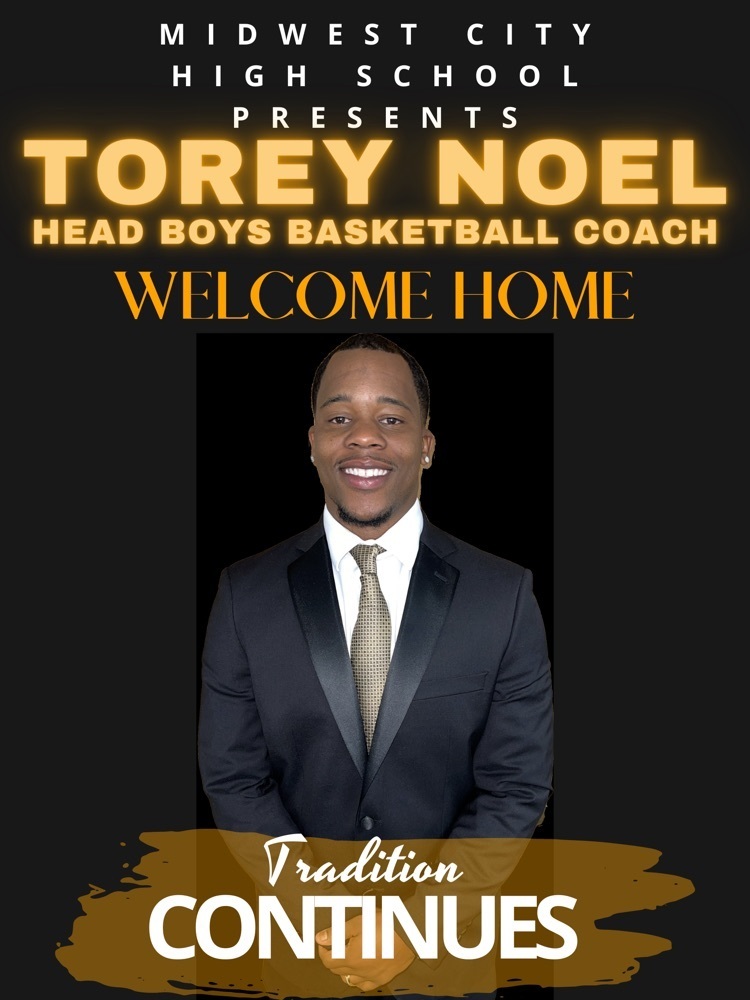 The Special Education Program at Midwest City High School is starting a gardening program that will educate our students on plant growth and community. Thank you Walmart for your donation to our program!!!! It's good to be Bomber!!!

There will be FREE sports and band physicals for current 5th grade through 11th grade Midwest City Region students. WHEN May 9th, 2023 6:00 PM WHERE JE SUTTON FIELDHOUSE TIMES: CURRENT 10TH & 11 GRADE 6:00 8TH & 9TH GRADE 6:30 5TH -7TH GRADE 7:00 *CURRENT 5TH THROUGH 11TH GRADES in Mid-Del (Midwest City Region) *STUDENT ID REQUIRED TO ENTER Online forms will be active on May 1.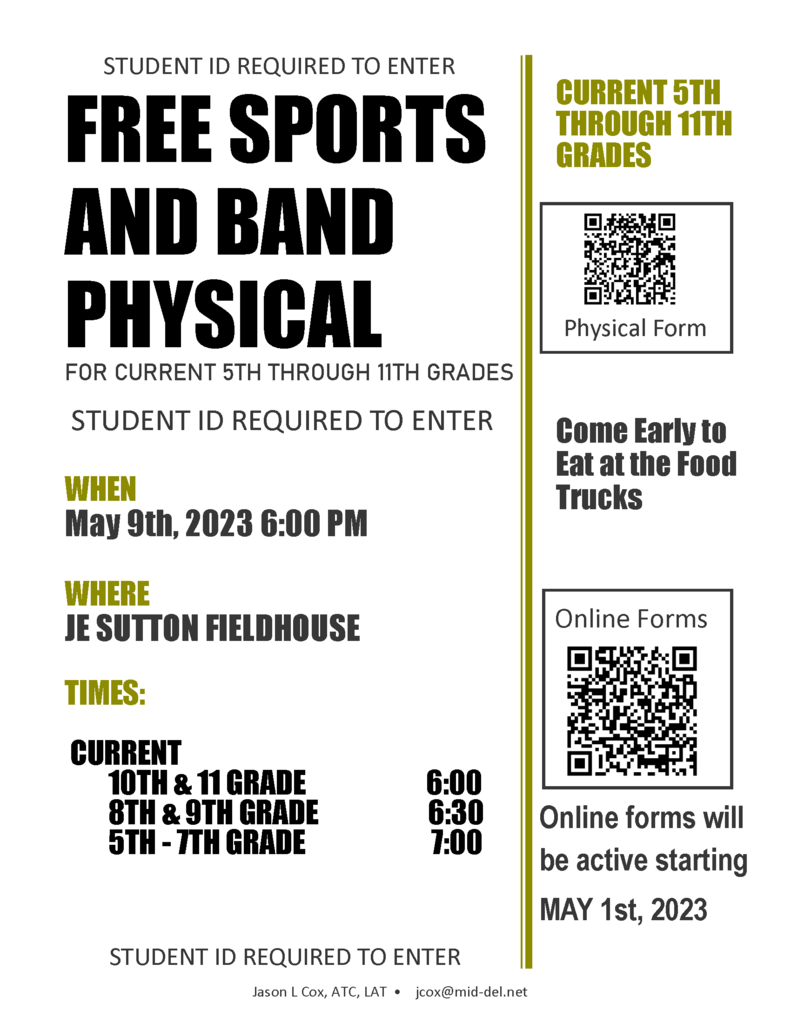 Reminder for our high school families: On April 5th, we will have a remote learning day for students in grades 9, 10, and 12. Juniors at all three high schools will be taking the ACT at their high school site on Wednesday, April 5th. In order to have enough staff to meet the testing requirements, we will need to use all site staff on this day to administer the test. More information will be coming soon. Thank you! #mdpurpose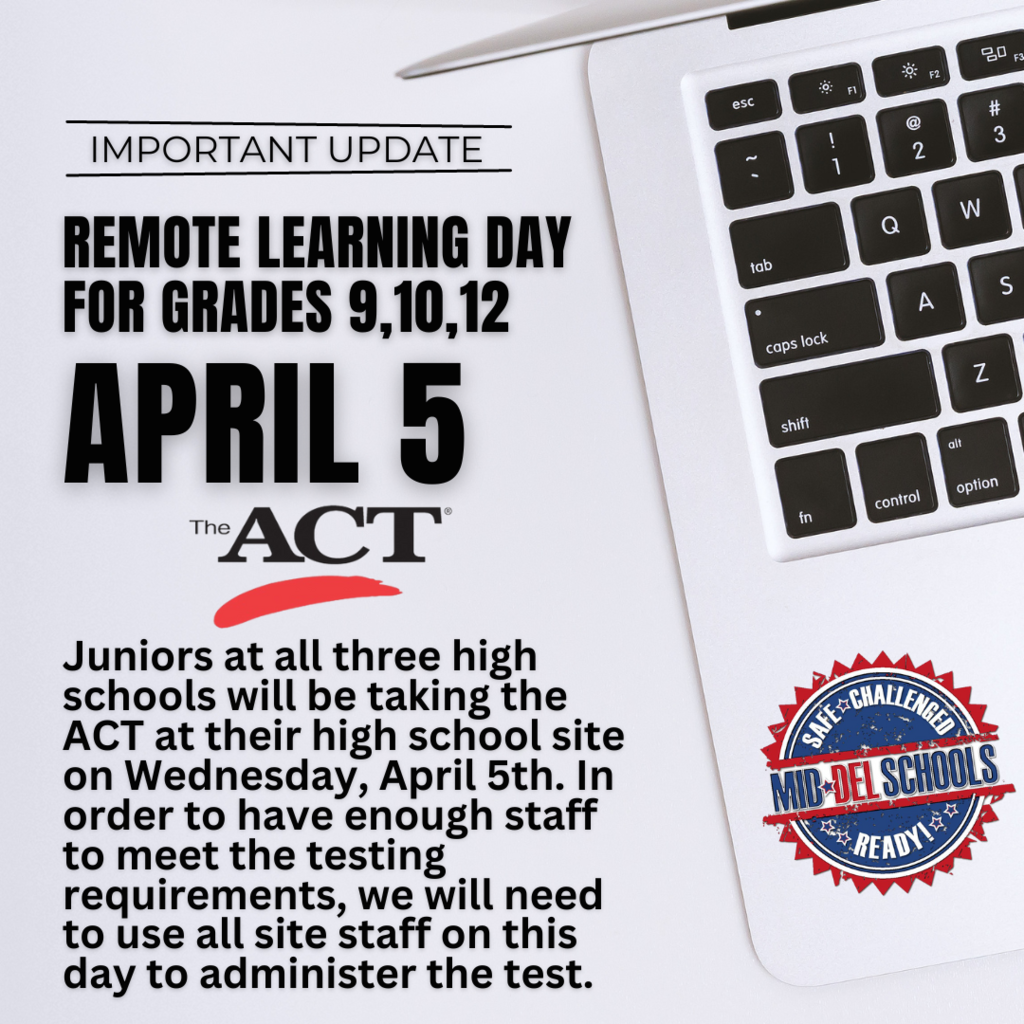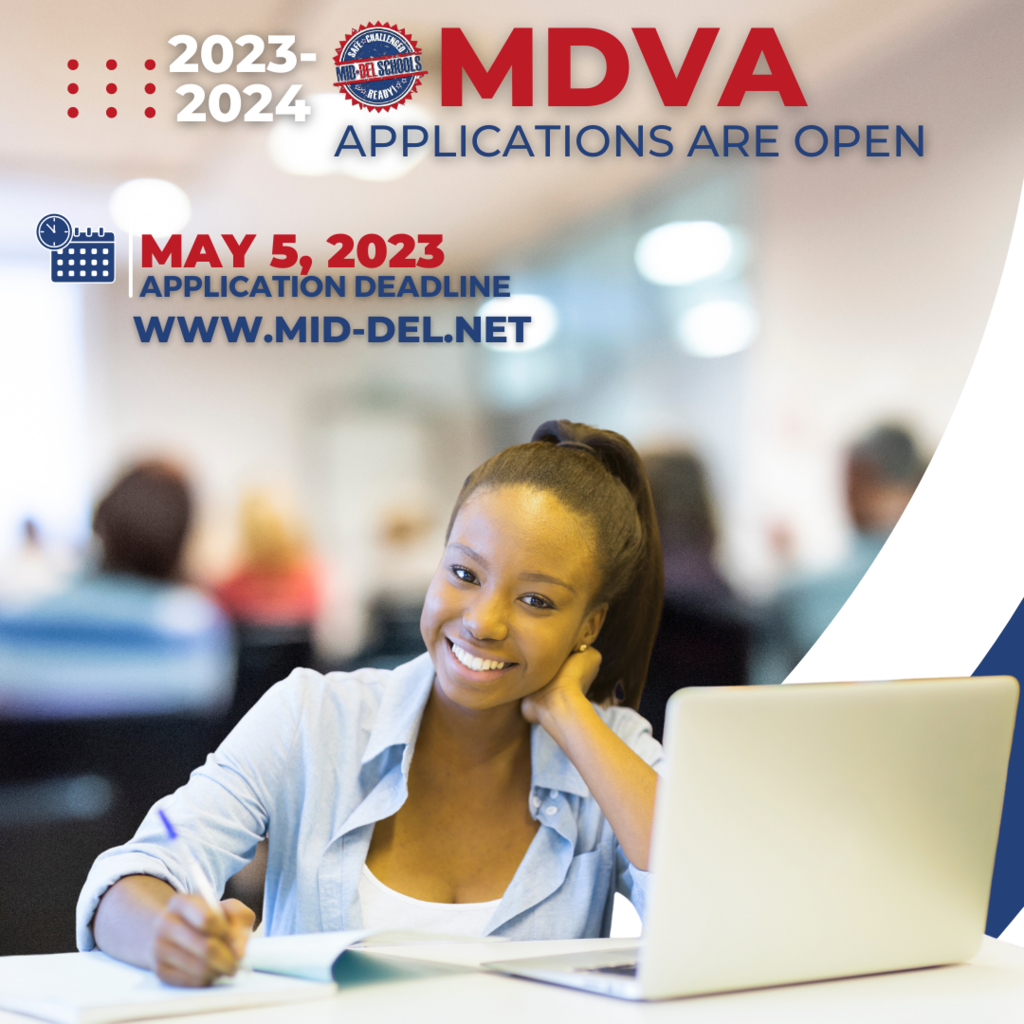 All Mid-Del families are invited to the District's STEM Family Night Thursday, April 6th from 5:30-7:30pm at Midwest City Elementary located at 2211 S Midwest Blvd. There will also be raffle prizes and refreshments while they last. #mdpurpose @TulsaSTEM