Teams from all fifteen schools in Mid-Del competed in the District's Elementary Brain Bowl! Thank you to all of our teachers and families for supporting our amazing students! #mdpurpose #oklaed
Thank you to our friends from Tinker Air Force Base and the Clothe the Children program for providing new clothing for 30 Mid-Del Elementary students. Thank you to Col. Brian Bracy and his team for supporting the program. A special thank you to JC Penney in Midwest City who opens the doors to our shoppers and students each year for this event. This year, local shopper...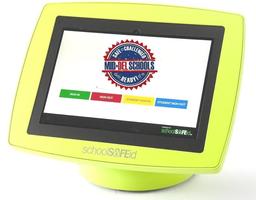 Mid-Del has launched a new visitor check-in system, called SchoolSafeID, to better ensure the safety of all students, faculty and staff. For the first time, all visitors will be required to present a valid state-issued ID to obtain a visitor's pass and enter the school. The name and date of birth on visitors' driver's licenses will be compared to the national database ...